Browsing and choosing a FORM workout
Browsing the workouts
There are multiple ways to browse and find a workout from the Workouts tab in the app.
Workout Finder
At the bottom of the workouts tab, tap on the Workout Finder banner to be able to quickly search for a random workout suggestion based on the distance you select. Select a short, medium, long or extra long workout and the app will present some workout suggestions. You can refresh the selection by tapping the refresh button at the bottom of the screen. Tapping on a workout will open a new screen to show the workout details and allow you to save it to your goggles.
All Workouts
You can select All Workouts to see the complete library. On this screen, you will see the available filters of category, distance, duration, intensity, pool size, stroke, drills, equipment, longest interval, whether or not you have already swum it and bookmarked. You can choose as many of each filter as you wish and apply it to see all workouts that correspond to the selections you made. There is the option to sort the selection in the top right of the screen. Tapping on a workout will open that workout to show the detail and allow you to save it to your goggles.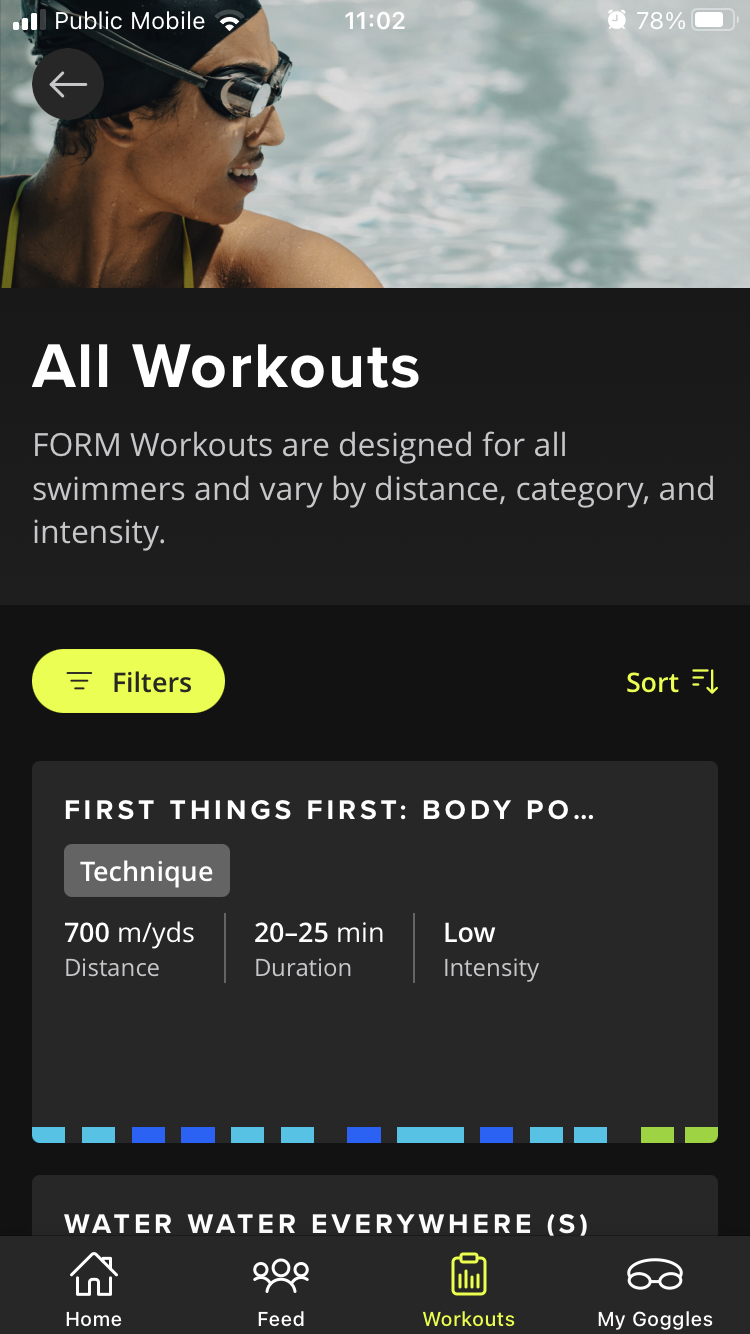 Collections
On the workouts tab, you can see collections of workouts that FORM has collated. Workouts shown in these collections are grouped together because they have shared characteristics. For example, the Getting Started collection contains workouts that will help you understand how to follow a guided workout, how to perform the drills and how to use equipment to enhance your swim performance and training. You can swipe through the collection to see a selection of the workouts within it, or you can tap on "see all" to open the entire collection. Tapping on a workout will open that workout to show the details and allow you to save it to your goggles or edit it.
Choosing a workout
You may wish to consider a few factors when choosing a suitable workout: distance, category and intensity.
Distance
The distance for each workout is displayed, along with an estimated time to do the workout based on your average pace once you have synced five swims. Note that the distance displayed is based on swimming in a 25m/y or 50 m/y pool. If you are swimming in a pool of a different size, please read the article about doing workouts in custom pool lengths.
Categories
Each workout is in one of the following categories:
Recovery workouts are designed for physical and mental regeneration. They are low intensity sessions that do not require much effort. While these workouts do not make significant improvements in fitness, they promote recovery and prepare you for subsequent training sessions.
Endurance workouts are base building sessions that develop the cardiovascular system. They are designed to improve your aerobic capacity, developing your cardiovascular system. This form of training is foundational and will give you the ability to maintain efficient and rhythmic swimming. A highly developed aerobic system improves recovery from all forms of training.
Power workouts are designed to develop sustained high-intensity swimming. They are sessions that include repeated high-intensity interval swimming. These challenging sessions will help you tolerate efforts that include heavy breathing, a high heart rate, and muscle fatigue. Developing your power will enable you to maintain long, strong strokes while under fatigue.
Sprint workouts are designed to improve ability to execute short bursts of maximum speed. They include short, fast swims. This type of session will develop your maximum speed and strength. Sprint sessions will improve your ability to increase your arm speed, kick, and overall swimming speed.
Technique workouts are drill-based sessions designed to improve your stroke efficiency. They are sessions that are focused on improving specific stroke elements. These sessions may be challenging as they require attention to detail. This type of practice will develop your overall stroke efficiency.
Test set workouts measure your performance improvement over time. They include standard sets that can be performed from time to time to evaluate performance improvement.
Intensity
Each workout has an intensity:
Low - focused on minimal effort and low demand and may have a focus of recovery or technique
Moderate - offer a range of effort outputs and are challenging but should not leave you feeling drained
High - very demanding, and will be either more sprint focused, or include long power intervals