About Membership
What is included with a FORM Membership?
By being a FORM member, you will have the expertise and unlimited motivation to become a stronger swimmer and hit your swim goals – no matter what level of swimmer you are.
Our world-class coaches have developed ever-growing workouts and progressive training plans that provide motivation in the pool with in-goggle workout instructions lap-by-lap. With over 1,000+ workouts, 30+ training plans, custom workout builder and more exciting features we have coming in 2023, the FORM membership supports you in and out of the water.
With our investment and commitment to continually delivering fresh content and new features, the FORM membership will become the most powerful way swimmers can realize their goals.
What happens if my membership ends?
If you purchased FORM on or after November 9th 2022, after your first year of free membership, your membership will be automatically renewed on a monthly basis. Cancelling the membership will mean that you lose access to the membership features, including the workouts and plans libraries, the custom workout builder and workout instructions in your goggles. You can rejoin at any time through the portal to regain access. The below graphic shows what you can access after the first year: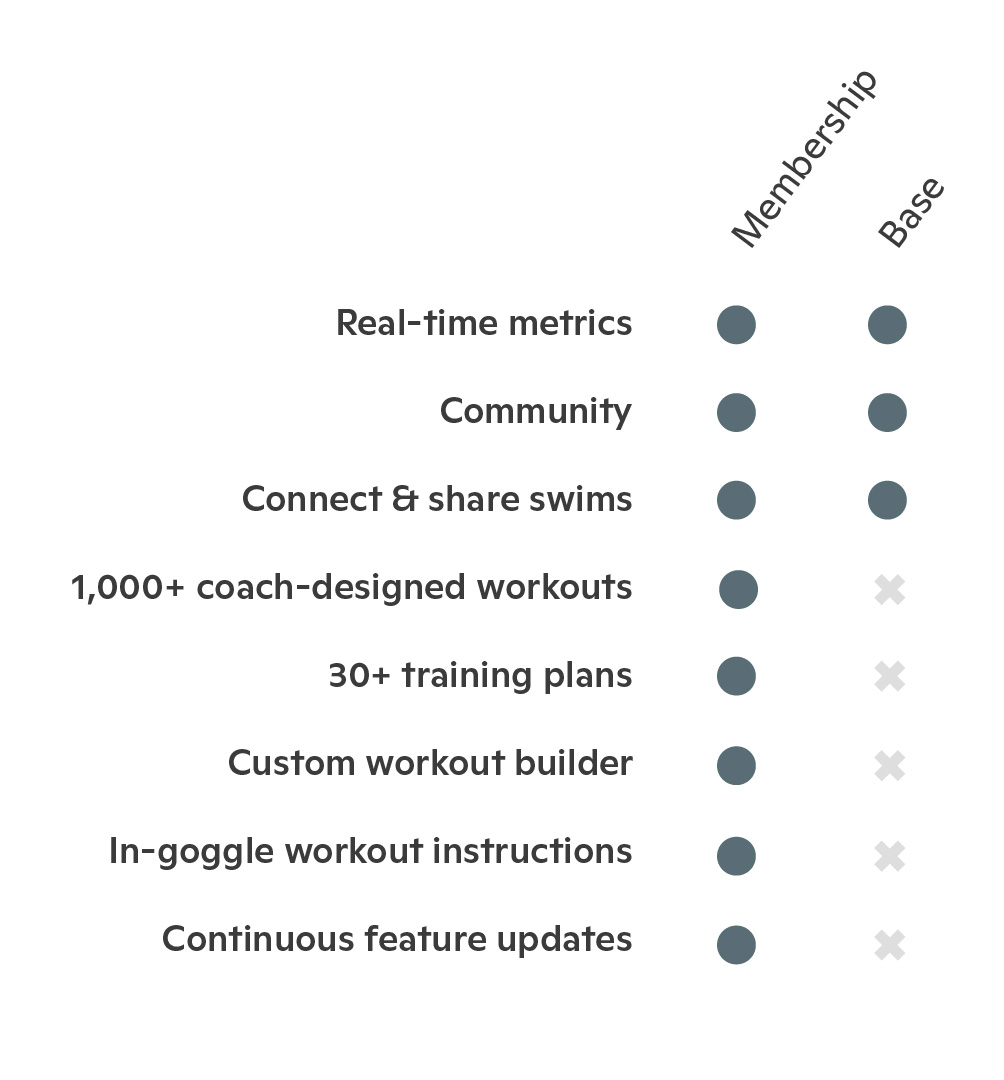 If you purchased between May 26th 2022 and November 8th 2022, cancelling your membership before having been a member for at least one year will mean that you will only have access to a variety of sample workouts and will not be able to use the goggles for any pool, open water or swim spa swims. To benefit from the full range of member features, you can rejoin FORM at any time through the portal. Once you have completed at least one year of membership with FORM, you will be able to access real-time metrics and pool, open water and swim spa swims even without an active membership.
If you purchased FORM goggles or FORM goggles and membership before May 26th 2022, cancelling your membership will mean you'll lose the benefits of having workout instructions and plans in your goggles and you won't have access to the Workouts tab in the app. You will keep access to the FORM features you've always enjoyed including real-time metrics, post-swim analysis and community with your current pair of FORM goggles.

Can I purchase the goggles without a membership?
When you buy FORM, you are purchasing FORM Smart Swim Goggles and you get a free one-year membership on us. You'll experience the full FORM swimming platform during the first year but you can always just swim with real-time metrics in the first year if you choose.
If I cancel my membership, can I rejoin later?
Yes! If you cancel your membership for any reason, you can always rejoin FORM through the portal. Your membership will take immediate effect on your account so that you won't miss a beat.